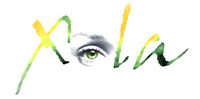 Art The "light of the World" I perceived 1971 in Salzburg/Austria. After spending 15 years of Youth in Bad Gastein I was moving to Salzburg City in 1986. Already in my earlier Youth I felt the smouldering ember of my artistic desire, waiting for one breath of air to ignite the passion burning within me. The increasing pressure to compete in the corporate world lead me in July 1995 to Australia from my native Austria. Here amongst the chatter of cicadas and the cry of the Kookaburra the ember ignited. It was the realization of my need to express myself through painting. After my return to Austria it continued and started to burn. My predilection for wild animals I found on the 6 months journey in South Africa in 1996/7. Where my first exhibitions followed. The urge for new inspiration has brought me in 2000 to the caleidoscopic world of Amsterdam where the Yin Yang completed. As a result of my Kundalini-Yoga-Teacher training, which started in 2007, was the deeper divivg into the spirituel en intuitiv world. With pride I see myself autodidact with no formal art school influence and express my artistic feelings without compromising style, design or technique. It is my desire that the enthusiasm engendered in my pictures will ignite a flame of passion in the heart of the observer.
1.2012, 2013 Oil on Canvas 100x100 cm.


US$
5,000.00
2.Cosmic Dreams, 2001 Oil on Canvas 60x80 cm.


US$ 3,500.00
3.Explosion, 2000 Oil on Canvas 60x80 cm.


US$ 3,500.00
4.Fire Ohm, 2001 Oil on Canvas 65 cm, turnable.


US$ 2,222.00
5.New Age, 2012 Oil on Canvas 60x50 cm.


US$ 1,500.00
6.W.T., 2013 Oil on Canvas 60x80 cm.


US$ 2,222.00
1.

2.

3.

4.

5.

6.