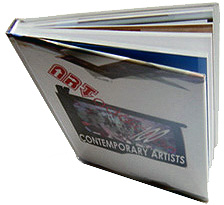 Art ADDICTION - 100 Contemporary Artists
limited run collectors' edition book
Hardcover 208 PAGES 8X6 IN /20X15 CM
ISBN-13: 9789189685055
eBook | Click to view on fullscreen
Art Addiction
100 Contemporary Artists
Art Addiction -100 Contemporary Artists from World of Art /Masters of Today Publishing in the series of Contemporary Artists in conjunction with Art Addiction Gallery and World of Art Magazine.
Year 2002 Art Addiction Online Gallery celebrated its 10th anniversary of continues virtual exhibiting [1992 -2002]. By virtue of the 10 years of on-line art exposure, we augmented our enterprise with the production of a pre-eminently high-quality publication making the works of Art Addiction artists and members available in print by "Art Addiction 100 Contemporary Artists" the first collective, collectible global art book in a series of art books dedicated to contemporary artists. The artists and the works in the book were decided by an Honorary Committee.

"Art Addiction 100 Contemporary Artists" offers to each artist included the space of one-page or two-page spreads of artist profile in the book. The artist profile includes up to 6 works, biography, statement or a critic essays and the artist photo.
The book distribution is through several large bookstores chains internationally and in the USA including e-commerce channels such as Barnes & Noble, Amazon, Powell's, Books-A-Million, Textbook, Buy.com, Blackwell in USA, Canada, Japan, Australia, France, Germany, UK and many others.

In our continued efforts to bring collectors and artists together, copies of the book were sent to galleries, museums, art fairs, cultural institutions and to all collectors who purchased artwork from Art Addiction.